Portland Magazine
Chef Justin Rowe has a driving passion which happens to be driving (or ferrying, in this case) patrons to Chebeague Island Inn, which has become a must-experience food destination.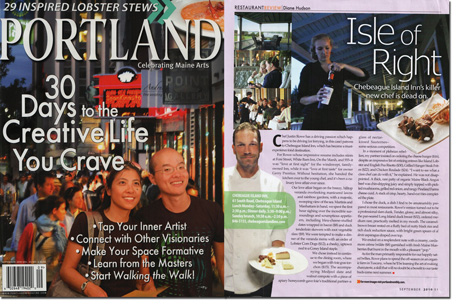 For Rowe-whose impressive resume includes stints at Fore Stret, White Barn Inn, On the Marsh, and 555 - it was "love at first sight" for the windswept family-owned Inn, white it was "love at first taste" for owner Gerri Prentice. Without hesitation, she handed the kitchen over to the young chef, and it's been a culinary love affair ever since.
Our love affair bean on a breezy, hilltp veranda overlooking manicured lawns and rainbow gardens, with a majestic, sweeping view of the sea. Martinis and Manhattans in hand, we spent the first hour sighing over the incredible surroundings and scrumptious appetizers, including bleu-cheese-stuffed dates wrapped in bacon ($8) and duck tenderloin skeweers with root vegetable slaw ($9). We were tempted to make a dinner of the veranda menu with an order of Lobster Corn Dogs ($12), a cheeky, uptown nod to a Coney Island staple.
We hose instead to continue to the dining room, where we began with fois gras torchon ($15). The accompanying Medjool sate and walnut compote with a piece of apiary honeycomb gave foie's traditional partner - a glass of nectar-kissed Sauternes- some serious competetion.
In a moment of plebian rebellion, my partner insisted on ordering the cheese burger ($16), despite an impressive list of enticing entrees like Island Lobster and English Pea Risotto ($30), Grilled Hanger Steak Frites ($22), and Chicken Roulade ($24). "I want to see what a class chef can do with it," he explained. He was not disapointed. A thick, rare patty of organic Maine Black Angus beef was chin-dripping juicy and simply topped with pickled mushrooms, grilled red onion, and tangy Pineland Farms cheese curd. A stack of crispy, hearty, hand-cut fries completed the plate.
I chose the duck, a dish I find to be amateurishly prepared in most restaurants. Rowe's version turned out to be a professional slam dunk. Tender, glossy, and almost silky, the pan-seared Long Island duck breast ($32), ordered medium-rare, practically melted in my mouth. The caramel-brown breast rested on a fluffy bed of nutty black rice and rich duck reduction sauce, with bright green spears of al dente asparagus draped over top.
We ended on a resplendent note with a creamy, cardamom créme brulée ($8) garnished with fresh Maine blueberries that burst in the mouth with a pleasant "pop."
As for the man primarily responsible for our happily sated bellies, Rowe plans to spend the off-season on an organic farm in Tuscany, where he'll be learning the art of making charcuterie, a skill that will no doubt be a benefit to our taste buds come next summer.
Diane Hudson - Restaurant Review
Portland Monthly, September 2010