CNN.com and Coastal Living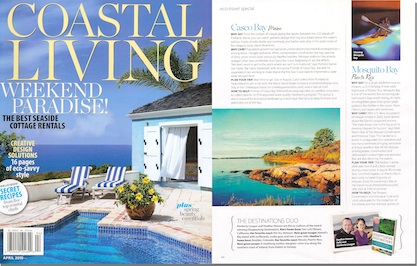 "Authors Heather Hansen and Kimberly Lisagor have traveled the world investigating coastal sites that are as stunning as they are endangered. Here they share advice for planning an eco-sensitive trip - and how you can help."
"Why Go? From the cockpit of a kayak plying the ripples between the 222 islands off Portland, Maine, you can watch gannets plunge their big blue beaks below the water's surface. Flocks of eider ducks soar overhead, and harbor seals play in the quiet coves of fern-draped, rocky island shorelines."
"Plan Your Trip: ...Catch a ferry from Portland to Peaks Island to join with the Maine Kayak Company. Stay at the Chebeague Island Inn..."

Heather Hansen and Kimberly Lisagor
Coastal Living, April 2010


http://www.cnn.com/2010/TRAVEL/04/06/coastal.wonders/index.html