Best of 2006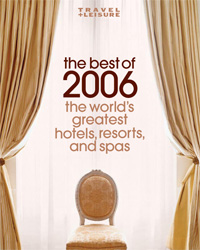 Covering nearly 500 hotels, resorts and spas around the world, The Best of 2006: The World's Greatest Hotels, Resorts, and Spas, is the definitive guide to where to stay this year.

The Best of 2006 features a comprehensive directory to the World's Best hotels chosen by Travel + Leisure readers, including a guide of spectacular rooms and tips for making the most of your stay; "Editors' Picks" of the newest hotels and classic favorites; a special section on affordable European hotels; and more than 200 full-color images from Travel + Leisure's award-winning photographers.

Nancy Novogrod, editor in chief of Travel + Leisure, explains: "A compendium of T+L editors' hotel favorites and our readers' World's Best Awards picks, this book was designed as an essential resource for passionate and sophisticated travelers. It offers inspiration and the most reliable and cutting edge hotel information there is."